GB House Pipes
Pipe Tobacco
The Pipe Cam
Pipe Lighters
Tools & Accessories
Tobacco Pouches

Chewing Tobacco
Imported Nasal Snuff
Non-Tobacco Dip
Spitoons
Chewing Accessories

Cigarette Accessories

Flavored Cigars
Cigar Accessories


Lighters
Pipe Lighters




<!GMETA title='The Chewing Tobacco Page'!>
<!GTEXT name='Main Header'>The Gatlinburlier Chew Bar<!/G>
---



PIPE & CHEWING TOBACCO PRICE INCREASE EFFECTIVE NOVEMBER 1ST, 2012


The Gatlin-Burlier strives to provide the best quality product for the best possible price. Due to increasing costs of tobacco we are forced to increase our pipe and chewing tobacco prices. The new prices go into effect Thursday, November 1, 2012.
Check the Pipe Tobacco, Smoker Selection and the Chewing Tobacco links for the New Prices.



NEW Chew Prices
3oz $6.50 1lb $23.95 5lb $91.50
Chew Sampler 3 - 3oz. bags/$16.50
Super Sampler 10 - 3oz. bags/$47.95



---

<!GIMG name='Image 1' directory='images' border='0' file='hillspit1.gif'>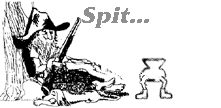 <!/G> <!GTEXT name='Text Block 1'>From the hills of Tennessee, Kentucky, and the good earth, we offer you the best custom chewing tobacco blends and dipping tobacco blends found anywhere. We pull out the sticks, stems and limbs. We also stock a variety of imported nasal tobaccos , and even non-tobacco products to keep you satisfied when you can't take a chew. And of course a full line of spittoons and accessories.<!/G>



<!GTEXT name='Text Block 2'>Click the Link below or Scroll down the page to view a list and descriptions of Our Tasty Chewing Tobacco Blends. Be sure to check them out.<!/G>






Select 3 different blends!




Click to choose three flavors:
HOLD DOWN THE 'CTRL' KEY WHILE CLICKING WITH YOUR MOUSE TO MAKE YOUR SELECTIONS, THEN HIT THE BUTTON JUST BELOW TO ADD IT TO YOUR ORDER





CHEWERS SAMPLER

9 oz. $16.50


Quantity:
---



Select 10 different blends!




Click on your favorite flavors to choose ten:
HOLD DOWN THE 'CTRL' KEY WHILE CLICKING WITH YOUR MOUSE TO MAKE YOUR SELECTIONS, THEN HIT THE BUTTON JUST BELOW TO ADD IT TO YOUR ORDER





Quantity:
---
<!GTEXT name='Header 1'>Gatlinburlier Loosleaf Chew<!/G>

<!GTEXT name='Text Block 3'>Big Orange Chew
...Just like it's name, it's Big, it's Orange, and it's Chewey.

Chewey Cherry
...Mild, yet bursting with a rich Cherry flavor.

Connecticut Broadleaf Chew
...An "Old Time" lightly flavored chew with more of a natural taste. (Like the old Beechnut)

Johnny Applesweet
...A blend of a sweet apple & Granny Smith. Our tasty reminder of Autumn in the Smokies.

Juicy Chew
...Fruit and Maple flavored. Favored by Red Man Golden Blend & some Lancaster guys.

Mountain Man Chaw
...NEW...A Great all around flavor.

New Dew Chew
...A hint of Vanilla, clean, moist and flavorful.

Nuts-To-You-Chew
...Natural Leaf with a light Butter Pecan flavor, not too sweet. (Similiar to Java Chew)

Rocking Chair Chew
...A long lasting flavor with a hint of Date, Walnut, & Honey ~ very Red Mannish!

Semi-Sweet Chew
...Not so moist, yet made to please Mail Pouch & Red Man chewers.

Special Peach Chew
...Naturally sweetened with Georgia Peach juices, still our best seller.

Sweet Chew
...A mild cigar leaf with a taste of Honey & Molasses. (Similar to Levi)

Wild Possum Chew
...NEW...Changes flavors everytime you chew it.

Winter Ice
...NEW...Refreshing Cool Wintergreen


---

Check out our other smokeless tobacco & non-tobacco products

| Dips | Import Nasal Snuff | Non-Tobacco | Spittoons | Accessories |


---
To Order your favorite blend of tobacco, just click on the the drop down box and choose your favorite blend in the desired size, enter the quantity desired then click on the "Add Tobacco to Cart" button.


---